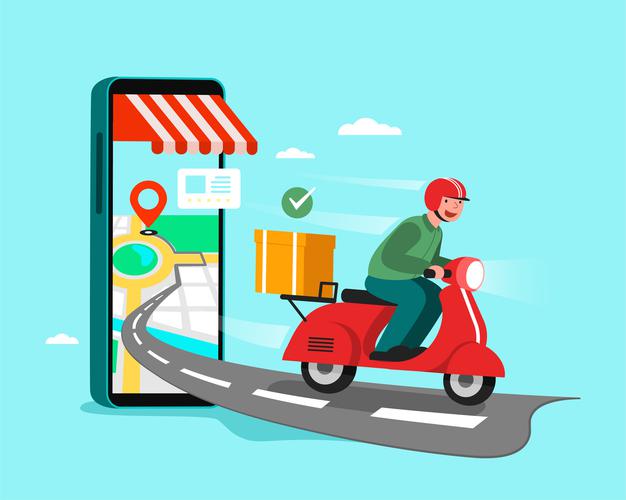 Research conducted amidst the COVID-19 pandemic found that a huge number of consumers have changed their buying behaviours as a result of the virus and not just because of the shift towards e-commerce. In fact, more than this, 53% said that the pandemic has changed the way they willl shop in the future, even once retail stores are able to open again.
When it came to finding out about local delivery, 31% said they have bought something online for local delivery during the pandemic and 59% of those that did, said they would use this method more in the future, particularly while the pandemic is ongoing.
Another shift we've seen this year is increased support for smaller businesses, with people trying to shop local in order to support their community. This has led many businesses to consider and even start doing local delivery, which is a great way to connect to local customers, provide a better service and drive up your sales.
So, if you're considering setting up a local delivery option for your business but you're not quite sure where to start don't worry, we've got you covered. In this guide, we're going to take a look at how you can get started with local delivery to help drive up your online sales.
What is local delivery?
Just in case you're not sure what we mean when we say local delivery, let's first clear this up. With locals unable to just pop in store to get what they need; they might have turned to your e-commerce site instead. However, it can be frustrating having to wait several days to receive your goods when the store is just down the road. And this is where local delivery comes in.
Local delivery allows customers to visit your online e-commerce store and make a purchase, their goods are then immediately packed and sent out for delivery to their home. There is usually a cut off radius or area in which local delivery applies, this could be just your local town or the surrounding areas as well.
How can local delivery help your business?
As we've said, local delivery can be great for connecting with the local community and driving sales online. But more than this, it also means local customers are more likely to choose your store as they can usually have their goods within 24 hours, often even the same day. This can stop them from choosing other online retailers like Amazon which typically offers fast delivery times, but doesn't often offer same-day delivery.
It's also a nice way to give back to the local community and offer a meaningful shopping experience to those that frequent your store. It's a way of taking your customer service to the next level. But let's not waste any more time, below we'll look at how you can add a local delivery service to your business. If you need local parcel delivery in Northern Ireland, look no further than NI Parcels.
Think about the logistics
Before you jump straight in and tell people that you're offering local delivery, you first need to consider the logistics behind it. You'll need to make sure you've got the time and resources to be able to take, package, send or deliver the goods yourself. If you want to make this a viable option you need to think about the following:
Who will deliver your goods? Will it be you, your employees or a local on-demand delivery service? And how much would using this courier service cost?
How long will it take customers to receive their goods from placing the order to delivery?
Where will you run delivery from? Will it be your store, your home, your storage container, etc.?
How far are you willing to travel to deliver? What do you define as your local area?
Once you've put some thought into all of these questions, you'll have a better idea of how you're going to conduct this service. Of course, you might find easier solutions along the way but it's important to have a solid plan in place before you commit to a local service, just in case you cannot meet demands.
Create an e-commerce site (if you don't already have one)
A huge step towards adding your local delivery option is going to be creating an e-commerce website if you don't already have one – and you really should! This will give you a place to advertise your goods and allow people to place orders. There are plenty of platforms out there that make creating an e-commerce website as simple as possible, for example, WordPress and Shopify.
Add local delivery to your e-commerce site
The next step is to add a local delivery option to your website and there are several ways you can do this. You might wish to create an entirely new page dedicated to local delivery which contains your contact details so that locals can place their orders. Alternatively, e-commerce platforms like Shopify have whole features dedicated to allowing you to add local delivery to your website.
Essentially, how you choose to go about adding this feature is up to you, just make sure it is simple enough for locals to be able to find it and easy enough for them to place their orders.
Shout about your local delivery options
You can't just expect the locals to know about your new service, so you need to make sure you let them know. There are several ways you can do this, the simplest is putting up a sign up in your shop window to direct people to your website or social media pages. If you have an existing email list you can also use this to send out an email to those registered in your local area to let them know.
Lastly, shout about your new delivery service on your social media profiles. It's likely that your following will largely be made up of locals and people who have visited you before, so you'll be able to reach them directly. To boost your visibility further, ask other local businesses and customers to share your updates.
What's more, if you wanted to put a bit of budget behind it you could always run ad campaigns targeting those that live nearby but that will depend on whether you've got the money to spend.
Consider curbside pick-up
Finally, though not strictly delivery, some locals may prefer to swing by and pick up their parcel themselves when they're out and about. If you're able to have someone at your store or nearby location that can run this service, consider adding curtsied pick-up to your list of options. This gives customers even more flexibility around how they choose to shop and receive their goods.
More Information: