Belfast has a pretty impressive dining scene…
Ranked amongst the world's greatest, Belfast's dining scene is one that is constantly thriving and becoming increasingly more sophisticated with each passing day. The bustling city offers fine dining, brasseries, bistros, local pubs and some of the best coffee shops around.
Instagram gives restaurants and cafes the opportunity to showcase their worldly grub to the hungry eyes of the public through aesthetically pleasing imagery that speaks for itself.
We thought it would be a great idea to show our appreciation for our favourite Belfast food places on Instagram.
Sorry not sorry for how hungry you'll be at the end of this post…
1. Baker Street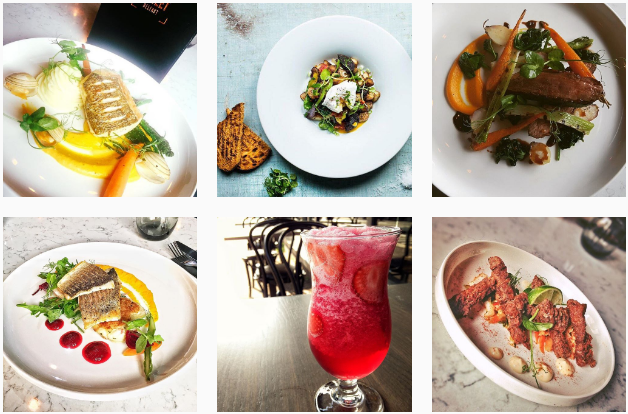 Located at 20-22 Belmont Road, Belfast BT4 2AN this modern, family friendly bar and grill will win the hearts of anyone who steps foot into its beautifully decorated interior.
Find Baker Street on Instagram @bakerstreetbelfast.
2. Bootleggers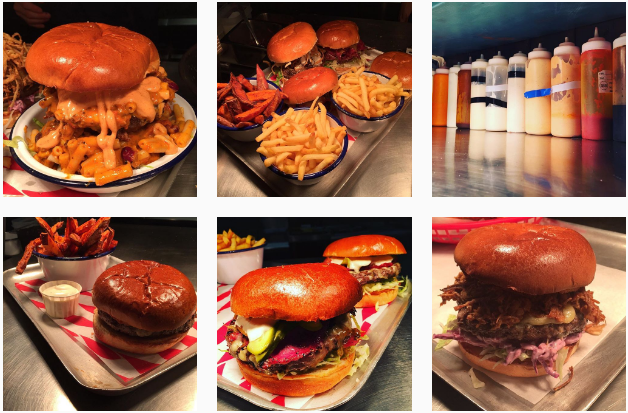 Located at 46 Church Lane, Belfast BT1 4QN this rustic, comfy bar serves up original cocktails and some of the best gourmet burgers in town. Their Instagram feed is sure to have your mouth watering.
Find Bootleggers on Instagram @bootleggersbelfast.
3. Boojum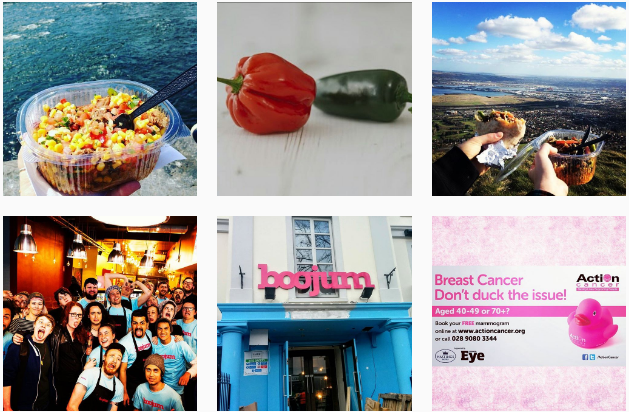 Located at 19-27 Chichester Street and 67-69 Botanic Avenue, Boojum is an award-winning Belfast favourite. This casual Mexican burrito bar is one of the most popular food joints in town, and for good reason.
Find Boojum on Instagram @boojummex.
4. Bubbacue
Located at 12 Callender Street, Belfast BT7 1JR, founded in 2012, this recently re-vamped American barbecue joint is another city centre favourite. Serving freshly smoked meat sandwiches on a daily basis and showcasing it all on Instagram, this is one aesthetically pleasing feed that will get your tummy rumbling.
Find Bubbacue on Instagram @bubbacue.
5. Established Coffee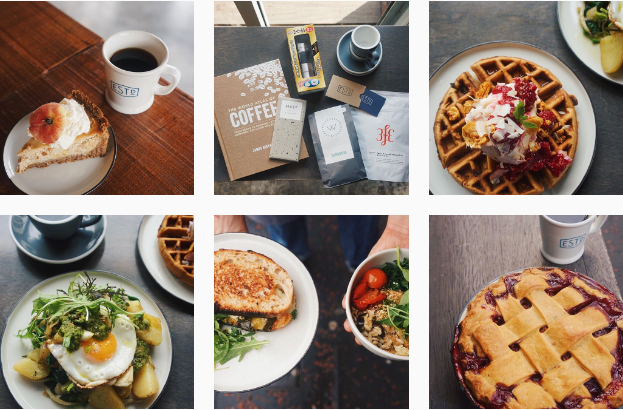 Located at 54 Hill Street, Belfast BT1 2LB this Cathedral Quarter coffee shop is the perfect stop for the finest coffee in Belfast, as well as the tastiest breakfast and lunch options. Their Instagram beautifully showcases the finest choices on the menu.
Find Established Coffee on Instagram @establishedcoffee.
6. Belfast Baking Company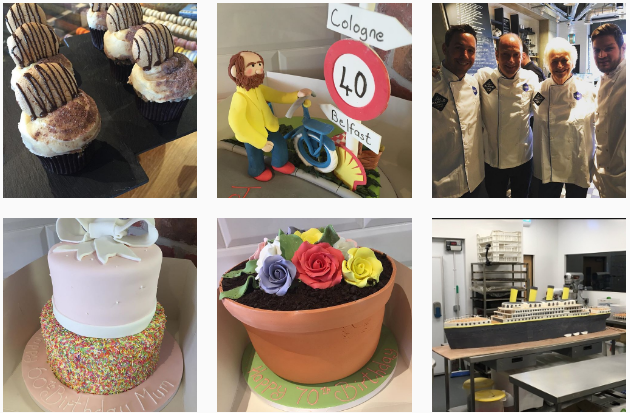 Located in Titanic Quarter, this irresistible artisan bakery is something to admire. Their Instagram feed gives a glimpse into the pure talent that goes into producing some of the finest patisserie selections the city has to offer.
Find Belfast Baking Company on Instagram @belfastbakingcompany.
7. Black Bear Cafe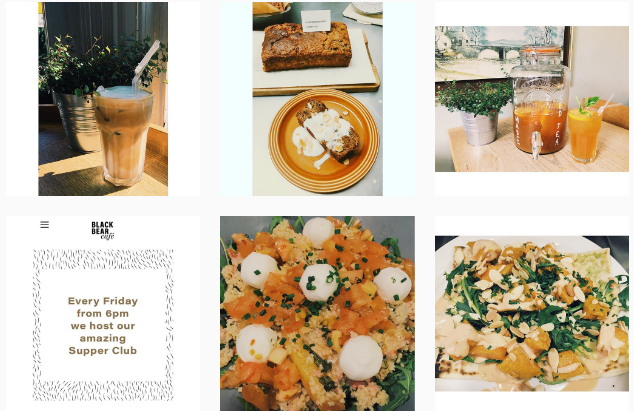 Located at 17 Stranmillis Road, Belfast BT9 5AF, offers gourmet coffees and speciality dishes, including vegan and vegetarian dishes and baked goods. Their bright and aesthetically pleasing imagery will win the heart of any food fanatic.
Find Black Bear Cafe on Instagram @blackbearcafebelfast.
8. Slims Healthy Kitchen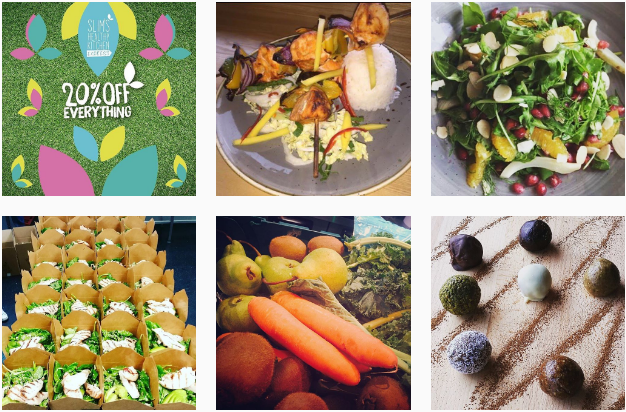 Situated in various locations across Belfast, including 20-22 Belmont Road, Slims Healthy Kitchen aims to bring a healthier (and tastier) alternative to fast food. Their Instagram feed is full of delicious food shots, as well as fun behind the scenes snippets.
Find Slims Healthy Kitchen on Instagram @slimshk.
9. Maggie Mays Cafe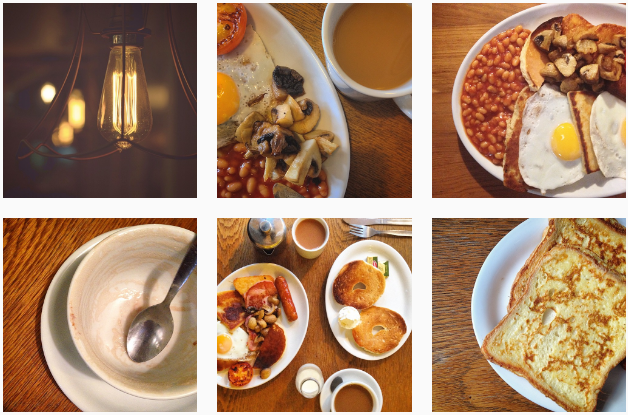 Located in Botanic Avenue and Stranmillis, Maggie Mays is a firm favourite amongst students in Belfast. This quirky, homely cafe serves the best kind of home cooking from early morning breakfasts, lunches, as well as a dinner menu. Just looking at their Instagram feed could cure your hangover.
Find Maggie Mays on Instagram @maggiemayscafe.
10. Town Square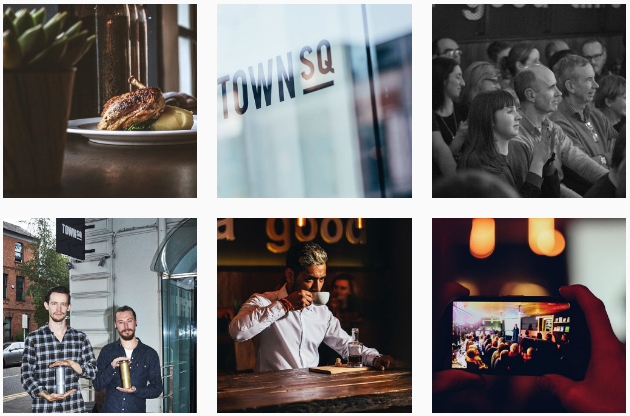 Located at 45 Botanic Avenue, Belfast BT7 1HZ, this modern all-day dining joint offers something a little bit different in Belfast. Their Instagram feed is full of sleek, professional images that will win the heart of any Instagram lover.
Find Town Square on Instagram @townsquarebelfast.
11. Coppi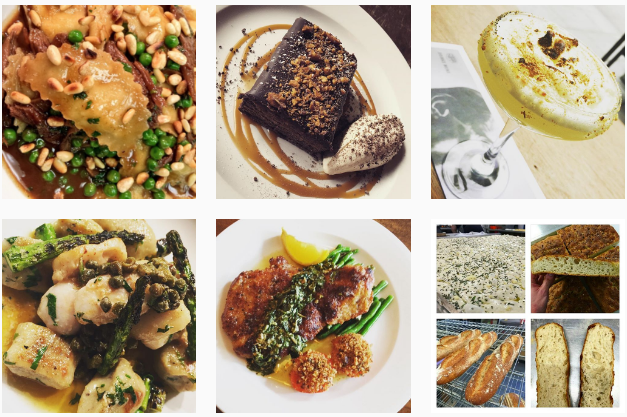 Located at Belfast's Cathedral Quarter, Coppi is an Italian-inspired restaurant in the heart of the city centre. They are at the top of their game when it comes to showcasing their delicious menu on Instagram.
Find Coppi on Instagram @coppibelfast.
Thanks for reading!
You might also like:
5 Ways To Utilise Instagram for Your Business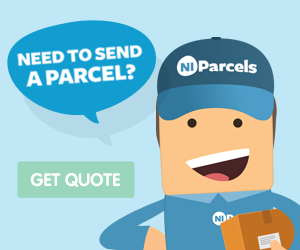 More Blog Posts:
43 Things Only Northern Irish Adults Will Remember
40 Things Only Northern Irish People Do
Learn more:
Parcel Delivery Northern Ireland
Cheap Shipping To Northern Ireland
Other news:
Are you a student or know someone who is? Our sister company My Baggage is talking all about what to do if you forget your UCAS login details. Read more!