There's absolutely no denying that us Norn Irish are a gorgiz bunch.
I mean, would ya just look at the astounding array of aesthetic wonders we have produced over the years.
So what's our secret? Well apart from a complexion enriching diet of potatoes, bread and dairy, Northern Ireland is home to a number of of exceptional beauty brands. We're the birthplace of world-renowned cosmetic lines, as well as a wide range of little pretty hidden gems that are just getting on their feet.
However, we thought it was time to stop being so selfish with our beauty secrets, and instead, spread the good news far and wide so that everyone can at least try to be a as beyuuutiful as us. (Pah, good luck.)
 Northern Ireland's Top 15 Beauty Brands
1. Vita Liberata
Have you seen those young ladies who swan about town doin ther shappin on a Saturday afternoon looking a bit like this?
Well those lot clearly haven't heard of Vita Liberata. This tan brand was established in 2003 by local wonder woman Alyson Hogg who wanted to create self-tanning products that actually work. The brand has grown exponentially over the past few years and is stocked by an insane amount of chemists and salons. We use it and you should see us – our skin is flawless. Vitaliberata.co.uk.
2. Skinician
This is miracle skincare range, created by the geniuses behind  He-Shi tanning, is stocked in local salons up and down the country. The products use superior ingredients to ensure a noticeable result. A few months back I underwent a glycolic facial by Skinician, and I swear to God, afterwards, I looked 10 years younger. Which would make me 11. (ahem…) Europroducts.co.uk
3. Lucy Annabella Organics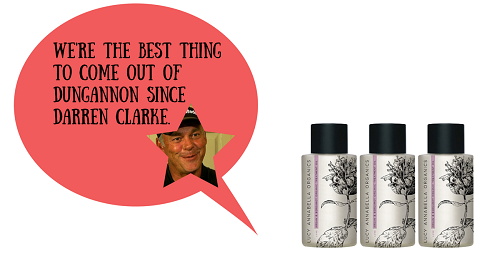 If you haven't heard of this brand, then grab your bank card, head to their website and prepare to file for bankruptcy on Monday morning. Their bath milks are just delicious (smelling, don't drink them) and when you've lathered yourself in them, you'll emerge smelling like an ethereal woodland fairy who has been napping in lavender for 30 years, rather than the slightly smelly office worker after an eight hour shift, that you really are.  Lucyannabella.com.
4. bBold Tan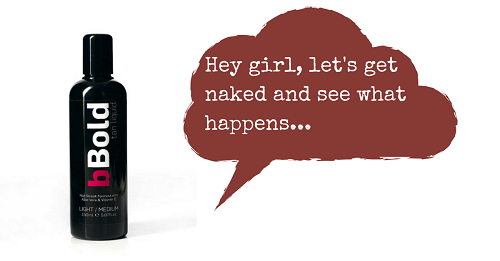 Do us a favour. Take off your clothes and rub this all over your body (not if you're reading this at work you MANIAC. Wait until you get home). Afterwards, you will emerge as a bronzed goddess. bBold is a local gem. It's super easy to use and dries quickly, so you don't have to stand still and naked in your bedroom for ages. (If you don't want to.) B-bold.co.uk
5. Marble Hill
Marble Hill was created by this legend of a woman, Dr Maria McGee. All of the products are 100% natural which means no animal testing (Yay! Go bunnies!) and they are very effective in alleviating skin irritation caused by Dermatitis, Eczema and Psoriasis. Marble Hill don't do much advertising etc because they rely on word of mouth, so do something nice today and share this post with someone who might use these products, because Marble Hill very much deserve it. Marblehillonline.co.uk
6. Beginnings by Karen Eakin
Lather yourself up real good with Beginnings luxury handmade products by Karen Eakin. Like Marble Hill, all of these products are natural, using things you can eat like avacado oil and shea butter. (But again, don't actually eat them. I must be real hungry today.) They sell soap, oils, body butters, bath salt and gift sets. Beginningsoaps.co.uk
7. Super Facialist
Una Brennan has long been recognised as one of the best beauty therapists in Northern Ireland, so it was only natural she would launch her own range of skincare products which you've probably seen in Boots. My personal top pick (not that you asked) is the Miracle Makeover Facial Oil which smells like your granny, but in a nice childhood nostalgia way – not the stuffy nursing home way. It's gorgeous. Superfacialist.co.uk.
8. Baby B Browne
Yes, it's another tan on the list, but can you blame us. It's been 15 years since we last saw the sun in Northern Ireland. And anyway, this one is amazing. The best thing about Baby B Browne is that it's incredibly long lasting and because it reacts to your own skin pigment, it looks natural and it doesn't do that patchy thing that self-tanners do. Babybbrowne.co.uk
9. Belfast Soap Company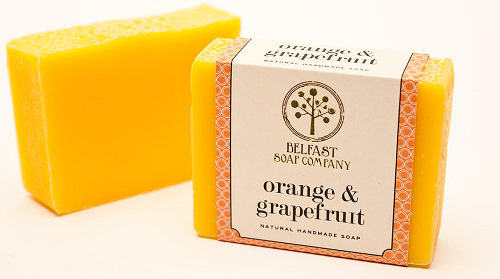 Yet another product that looks like a dessert but AGAIN, don't eat it. (Now you can't sue us because I've warned ye.) Belfast Soap Company is a soap company from Belfast, in case you  didn't guess.  Let me tell you, these guys LOVE planet earth. Not only are these artisan soaps 100% natural, the packaging is recyclable AND they give 10% of their profits to Friends of the Earth. Belfastsoapcompany.co.uk
10. B Perfect NI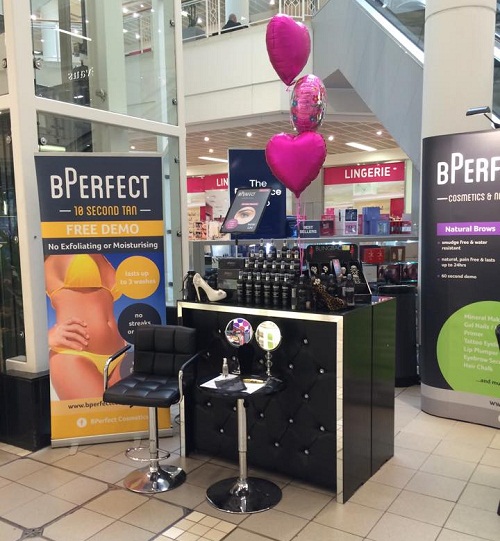 See next time you're walking through Castlecourt and you spot the B Perfect guys and girls opposite Debenhams, take a minute and look into their eyes. No, this is not some sort of weird hypnotic thing, I just really want you to see how good their brow and lash products are. They have a range of genius products but it's the mascara that caught my eye (hahaha, caught my EYE. Get it?!!) It's a transplanting gel with natural fibres that make your lashes so long that you feel like a sexy cartoon version of yourself. Bperfectcosmetics.com
11. Ciara Daly My Hero foundation brush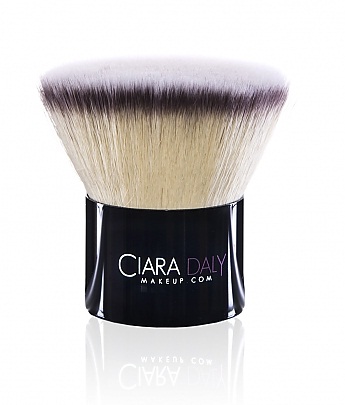 You know the way make up artists always go mad when you tell them you put your make up on with your fingers, but you don't want to use a brush because it's such a faff? Well, here is the answer to all of your prayers. The My Hero foundation brush from Ciara Daly will make you look like your make up has been kissed onto your face by angels. FACT. Ciaradalymakeup.com
12. Oonagh Boman Concealer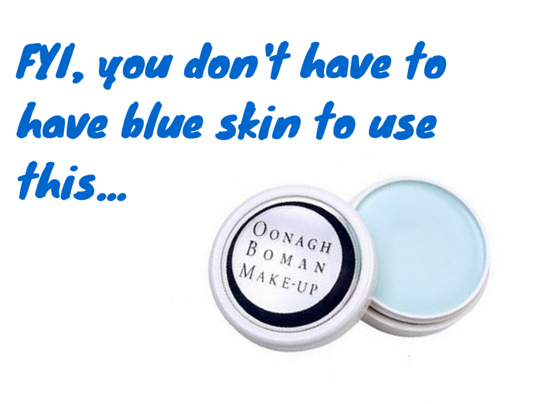 Nope, this is not a beauty product for aliens or Zoe Saldana in Avatar. This green concealer by Oonagh Boman can be used on your own human face. It's a colour corrector, so the green counteracts any redness on your skin. So it's perfect to cover up any broken capillaries or rosacea or general redness. Oonaghbomanmakeup.com
13. Barely Cosmetics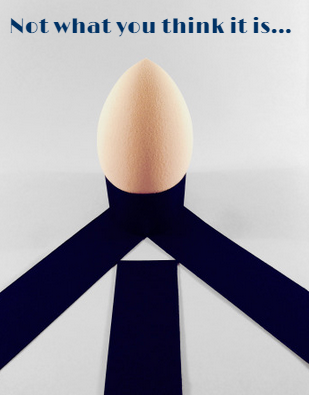 Barely Cosmetics create a range of make up and tanning application products. And honestly, if you saw one of these sponges in isolation, you probably wouldn't have a clue what it is. But they are little miracle workers. The sponges and mitts are non-absorbing, which means you're not wasting any product which might otherwise get soaked into the sponge. Clever or what? Barelycosmetics.com
14. Scent Cosmetics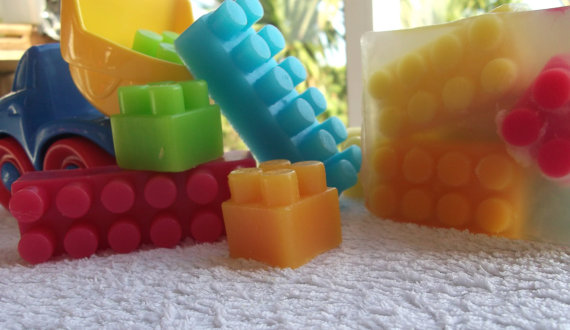 Ok how much fun does this stuff look?! It's soap that is made into Lego shapes by Scent Cosmetics. Again, this is yet another ethical, organic brand (who knew Northern Ireland loved the planet so much?) 10% of all you spend goes to Stepping Stones charity in Nigeria. Scent Cosmetics also take soap making workshops AND private lessons, as well as facilitating soap parties for children. Scentcosmetics.com
15. The Beardy Beard Co. 

As beauty products aren't just for ladies – (can I get a shoutout for metrosexuality?), we thought we'd include a couple of brands for the boys. Unless any of you ladies have facial hair you want to groom, which is cool. We're liberal people. Annnyyywaaayy. Let me introduce you to The Beardy Beard Co (what a name, BTW), who create luxury balms, oils and combs to keep your facial fuzz in tip top condition. The packaging is so attractive and the products sound so delicious (to smell) that it kind of makes me wish I had a beard. Thebeardybeard.co
Thanks for reading and remember – sharing is caring.
Learn more:
Northern Ireland Parcel Delivery
Small Business Shipping Solution
NI Parcels on Social Media