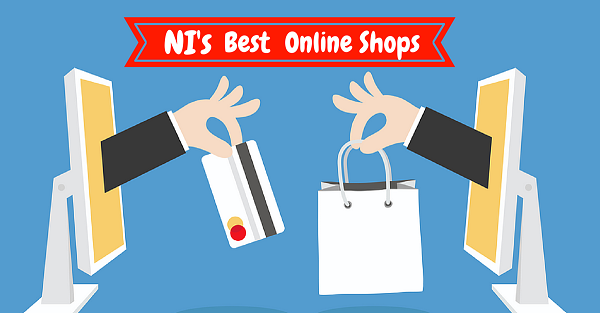 There's no point in denying it – when it comes to most things, like politics, law, the economy and other important stuff, Northern Ireland has a tendency to lag behind the UK, and the rest of the world…
(If like me, you're a proud Norn Ironer, you're probably sick of hearing that.)
For that reason, it usually comes as quite a surprise to most folk, that Northern Ireland is actually quite forward thinking and forward reaching when it comes to starting a business – particularly an online business.
Recent statistics show, that Northern Ireland is the best place to start and grow a small business. (Whodathunkit, eh?) For us at NI Parcels this is clearly evidenced through the recent burst of online shops. We've noticed that an increasing amount of our customers are independent online shop owners/retailers and e-commerce businesses.
As more online shops sign up daily to use NI Parcels, we've been fascinated by the range of products and services they're offering – the kind of stuff that makes you say "I wish I'd thought of that!"
So we decided to do some investigation and gather all of the most interesting local online shops and e-commerce businesses we could find, and compile this handy little list of our favourite ones and don't worry – there's something for everyone here…
What is it? Online bike retailer.
For some, starting an online store/e-commerce website starts out as a way to make a bit of money from their hobby – like selling handmade jewellery or crafts. For others it's a natural extension of their already existing successful offline business. Perhaps the best local example of this is Chain Reaction Cycles – a modest family run bicycle shop from Ballyclare which has grown into the largest online bike retailer  in the world. Yes – IN THE WORLD. Visit Chainreactioncycles.com
What is it? An amazing online fashion store.
Owned by the very trendy folk behind Rio & Brazil (two of Belfast's longest established independent boutiques), Mr and Mrs Stitch is the company's first foray into the world of online clothes shopping – and they're doing a darn good job. Offering both mens and womenswear, the website is very easy to navigate, the design and photography are both on point and most importantly, the clothes are incredibly edgy and different to anything else on the highstreet. Visit Mrandmrsstitch.com.
What is it? An online store selling male grooming products.
We've mentioned these guys in a previous blog post, but we couldn't leave them off this list. As you may have guessed, this company is all about the beard, offering oils, balms, combs and all sorts of products to keep your manly face fuzz in check. They have great, strong branding, and a user friendly website and we're guessing that the sheer volume of Northern Irish hipsters will keep them in business for the foreseeable. Visit Thebeardybeardco.com.
What is it? An adjustable maternity and nursing bra.
We know this is one that will make a lot of women go 'it's about time someone invented this!"'. Xpanda Bra is an all-in-one adjustable bra that sees you through pregnancy to nursing. The design is incredibly innovative and the brand has a lot of online fans. Visit Xpandabra.com
What is it? Premium dog food and treats.
Pet owners will love this gem of a company. Armstrong's Twisted Fish is an online store selling premium natural dog treats. (You may also spot them at some local markets and events too.) All handmade in Bangor, these are excellent products for anyone who wants their fur baby to be as healthy as possible. Their website is fab and absolutely packed with information alongside the products – visit Armstrongstwistedfish.com
What is it? Gorgeous luxury linen and decor – perfect for weddings and events.
Magpie Linens is a Pinterest lover's dream. As well as providing event decor packages, they also sell beautiful products online, such as a range of utterly exquisite luxury tablecloths that are sure to make a bold statement on a wedding day. Visit Magpielinens.com
What is it? A nifty educational product for kids.
If you're ever stuck on what to buy a child for their birthday, we have found the perfect gift. You're welcome. Rory's Story Cubes is a super creative game for children that encourages them to use their imaginations and tell stories. We could explain how it works, but their website does a much better job AND you can buy the products there too. Visit Storycubes.com
What is it? A beauty product comparison website.
If there's a woman in your life who is obsessed with makeup (we all know one, or two, or twenty) introduce them to BeauCo and once they have bookmarked this site, they will thank you forever. BeauCo isn't so much an online shop – it's actually a beauty product comparison website to help you save money (a bit like us at NI Parcels!), but we just couldn't leave it out of this list. Visit BeauCo.co
What is it? Cuddly toys with a very special difference
Although their website is currently under construction, keep your eyes on Ben's Medibear who will be producing teddy bears, uniquely made for children with health problems, to give them a little friend to play with and to help educate others about their health issues. It's such a lovely idea and, for the time being, you can find our more on their Facebook page.
What is it? An insanely popular self tan brand
A bit like Chain Reaction Cycles, Vita Liberata is a Northern Irish brand which has become a worldwide household name. I challenge you to find a woman who hasn't used it, or at least heard of it. The website isn't just used for selling products, it's constantly updated with informative blog posts and tanning tips that make for a great read. Visit Vitaliberata.com
If you run an online shop or a small business, OR if you need to send a parcel, you could save time and money with NI Parcels…

Learn more:
Northern Ireland Parcel Delivery
Small Business Shipping Solution
NI Parcels on Social Media