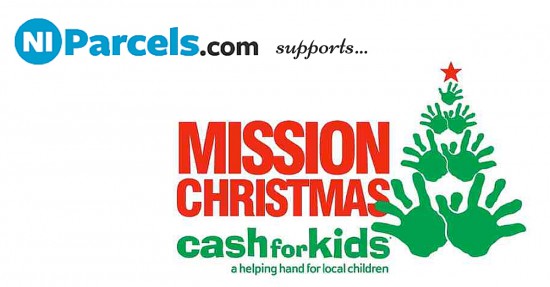 This Christmas, NI Parcels is supporting the charity Cash For Kids by offering free collection and delivery on donations made to them.
Cash For Kids charity launched 'Mission Christmas'  earlier this December- asking people to buy an extra present this year to donate to a young person, living in poverty.
Here at NI Parcels, we want to make it as easy as possible for you to donate, so if you have a present you would like to send, we will collect and deliver it for FREE.
We are offering free collection and delivery all this week. Book as early as possible to ensure we can collect your donation.
In the UK, 1 in 3 children are living in poverty. This is your chance to make their Christmas a little brighter. Cash For Kids are looking for unwrapped gifts for young people aged 0-18. These gifts can be of any value.
If you'd like to donate, all you need to do is complete the two following steps.
Step One: Simply fill in the form below.
Step Two: Click the link below the form to download your label. Print this label and attach it to your item.
We will then collect your gift from your home or business address in Northern Ireland and deliver it to Cash For Kids, completely free of charge.
Please ensure that your present is no heavier than 20kg and no longer than 1m in length.
Thank you for helping make a difference and if you have any questions, please email us on [email protected] or call us on 028 9503 0115.
Get more information about Cash For Kids – Mission Christmas here.
Step One: