When it comes to shipping parcels internationally, we know a thing or two here at NI Parcels.
There are so many factors to consider when sending a parcel abroad – whether you're a small business exporting internationally or simply an individual sending a gift to a loved one across the globe – whatever your reason may be, doing your homework is super important.
Sending items overseas can be a little bit daunting, whether it be the cost, the shipping times or mind-boggling country specific regulations – it can be quite a lot to get your head around.
Thankfully, we're experts at this kind of thing and we're here to shed some light on sending parcels internationally to ease your worries.
Here are 5 things to remember when shipping parcels internationally.
1. Researching country specific restrictions and regulations is so important.
One of the most important factors of shipping items internationally is doing your homework on country specific restrictions and regulations. For example, you're not allowed to send a pair of matching shoes to South Africa, Mexico or India. That's crazy, right? But these are the kinds of things that you should make yourself aware of before sending any parcels.
If you're sending a parcel outside of the EU, it's absolutely essential to complete and attach a customs declaration to the package – and it's just as important to fill in the declaration correctly. Not doing so could cause major problems for your shipment.
2. Understand international shipping costs so you don't pay more than you have to.
One of the most off-putting factors about sending parcels internationally is the cost – but would you be surprised if we told you that you shouldn't be so scared?
You absolutely do not have to break the bank when sending items overseas. Courier comparison services (such as NI Parcels!) is a guaranteed way to save money on international deliveries – no matter who you are or what your reason for shipping may be.
We work alongside some of the best couriers in the industry such as DPD and Parcelforce. We have negotiated fantastic low cost deals with these couriers, so that means you get the same high quality service for a fraction of the price! In fact, you can save up to 80% on your international courier costs, by booking with NI Parcels.
You can get a quote for your international parcel delivery any time from NI Parcels!
3. Secure packaging is absolutely essential.
It's a no brainer that you want your parcel to arrive at its destination safe and sound. If you're using a reliable courier renowned for their high quality services, the chances of damage to your parcel during transit is incredibly low – and most would offer some sort of compensation cover in the unlikely event that it would happen. At NI Parcels, we provide £50 free compensation cover on every single shipment, which can be increased during book if you feel it necessary.
However, for peace of mind, always remember to select appropriate packaging that best suits the contents of your packet. Hard, double-walled cardboard boxes are usually the best option if you're shipping items in a box, as they're sturdy and are less likely to come undone during transit. Consider the items inside too, ensure that they are fastened securely and enclosed from damage.
4. Don't forget a return address.
In the occurrence that your item can't be delivered and needs to be returned to you as the sender, it's vital to include a return address on the parcel. This way, it'll be returned to you free of charge and you will avoid any kind of hassle.
5. Research restricted/prohibited goods.
Relating back to the first point about country specific restrictions and regulations – when sending a parcel anywhere in the world, ensure that you're not sending any prohibited goods. Not every item can be carried on every service – and all countries have their own individual rules and restrictions. For example, a general rule is that liquids and perishable items cannot be sent abroad – so be sure to check your chosen courier's list of prohibited items before booking your shipment.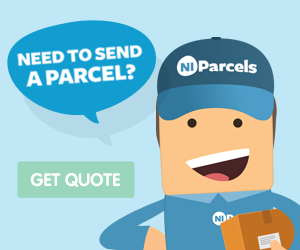 Learn more:
Northern Ireland Parcel Delivery
Northern Ireland To UK Courier
Small Business Shipping Solution