Northern Ireland is just pure bursting with talent…
I mean, seriously – this wee country has produced some incredible people over the years; from Oscar nominated actor turned daughter-losing badass Liam Neeson to serial killing sex weirdo Jamie Dornan.
Then there's the iconic broadcaster and hard hitting journalist Eamonn Holmes, rich ball hitter Rory McIlroy and of course, not forgetting – our favourite members of Snow Patrol, Jonny, Nathan and Johnny.
But any true Northern Irish person will tell you that it's not just the big global names we care about. There's a whole list of famous faces that have contributed to Norn Irish culture, been integral parts of our childhood and who have made us proud to call ourselves Northern Irish/British/Irish. (What are we, again?)
So, to honour those lesser acknowledged but nonetheless special names, we thought we'd put them on a list. Here are 26 faces that every Northern Irish person should recognise.
1. Julian Simmons
Who else could start this list but the living legend that is big Julian? If you ever want to find out if someone is truly Norn Irish, walk up to them and say "And nai on the yooteevee." If they don't respond with a remark about Gail Platt's love life, I'm pretty sure Stormont will grant you permission to extradite this imposter.
2.  Pamela Ballantine
The fun loving broadcaster who has neither aged, nor been pictured without her trademark ear-to-ear grin in the last 500 years. (We're fairly certain she's a vampire. Or maybe it's all that Optilase…)
3. Rose Neill
The newsreader who loves Northern Ireland so much that she got this patriotic haircut.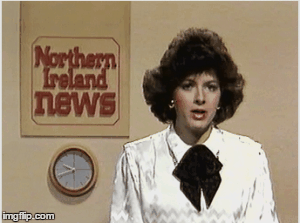 4. Jedi Jim Eastwood
The cliche speaking mind controller who actually had the gall to try and fire Alan Sugar from The Apprentice.
5.  Frank Mitchell
The broadcaster and presenter who somehow has never run out of towns for his Weather Watching camera. It's one of life's greatest mysteries.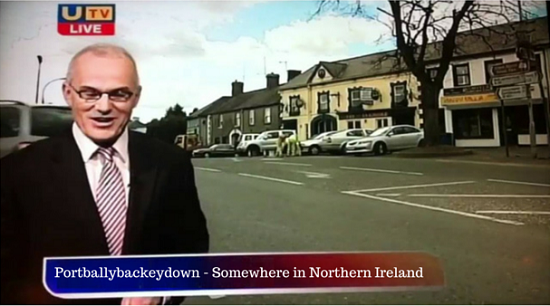 6. Frostbit Boy
The local teen who became an internet sensation after his body was momentarily inhabited by a senile old man.
7. Our Logie
And not forgetting his good pal Refundinho.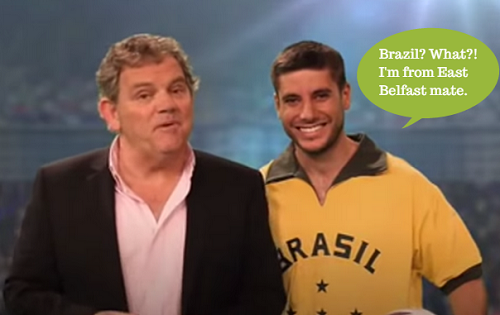 8. Colin Murray
Despite forging a successful career as a sport and music journalist, he'll always be the awkward looking lad from the Lidl commercials, who tried to show us that it's ok to do your shopping there even though they have way less stuff than Tesco.
9.  Stephen Nolan
The man who earns a living by trolling politicians live on air, interviewing bigots and making members of the audience shout angrily.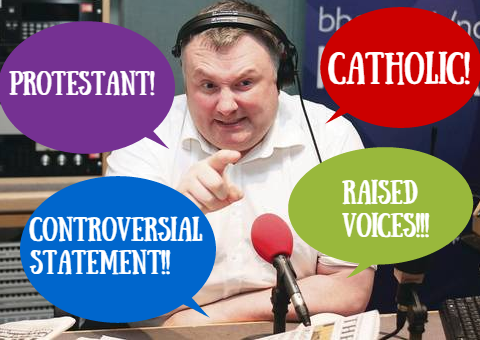 10. Uncle Hugo
The Radio Ulster disc jockey who is like sexual catnip to old ladies.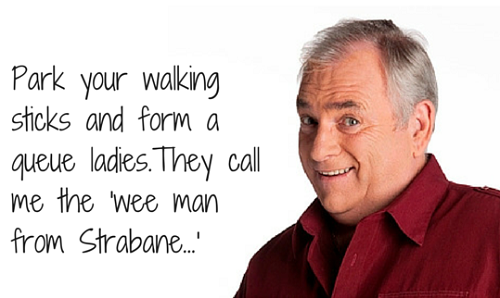 11. Terri Hooley
The unstoppable one eyed bandit who survived growing up in east Belfast, getting shot in the head with an arrow, the Troubles, bankruptcy, a serious heart attack and having to hear Teenage Kicks at every event he ever attends.
12. The cast of Give My Head Peace
Ironically, they are probably Ulster's most functional family.
13. The girl who gets headbutted and dies in one of NI's most grim road safety ads.
Not only did this ad scar us for life, but it also ruined Samantha Mumba songs for everyone.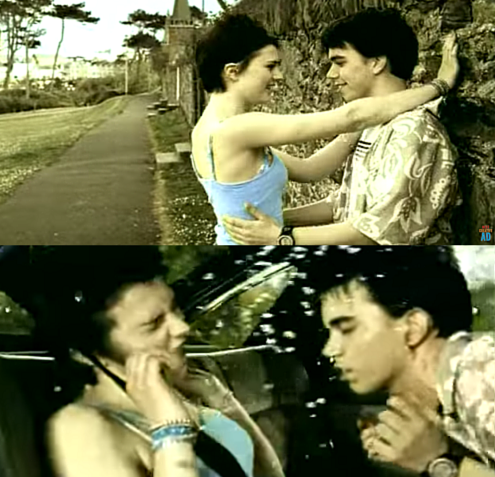 14. Joe Mahon
There's a reason why the places you visit are 'lesser spotted'.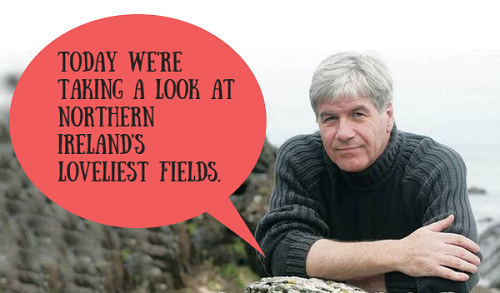 15. Jenny Bristow
Middle class mum's favourite.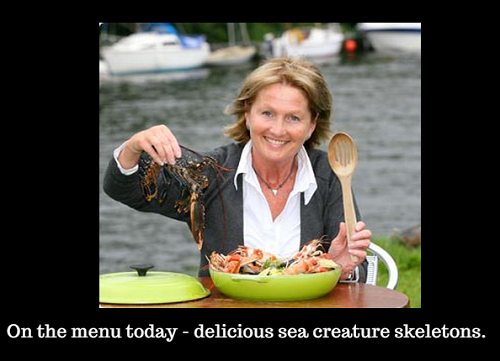 16. Roy Walker
"What's Mr Chips doing there?" Almost always something that looks like a sexual act, cleverly concealed by the flashing boxes.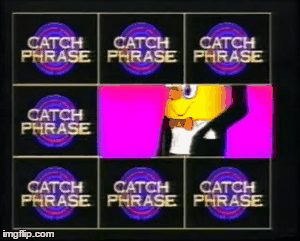 17.  Jim McDonald
Nai I'm warnin ye Eluzabith.
18.  Malachi Cush
The talented singer from Donaghmore who came to prominence through BBC's Fame Academy. (Now available for shopping centre openings, judging local talent competitions and turning on Christmas lights.)
19. Orlaith McAllister
(Yes, the one from the hot tub in Big Brother.)
20. Singer from Ash
You know the one. With the song about the… The girl… burn, baby something, something. Oh, I can't remember. Just Google them.
21. Zoe Salmon
The lawyer turned Blue Peter presenter with the very lovely face.
22. Brian Kennedy
Most famous for having his song made even more famous by Westlife. 
23. May McFetridge
Probably the only man who looks more like a man when he's dressed as a woman. (And also Worzel Gummidge.)
 24. Duke Special
Dreadlock piano eyeliner man, whose song you can never remember but for some reason, when you hear it, you know every word.
 25. Dj Hix
Actually – this is kind of a stupid one, because although most people know his name, they haven't a notion what he looks like. So here's a picture of a radio.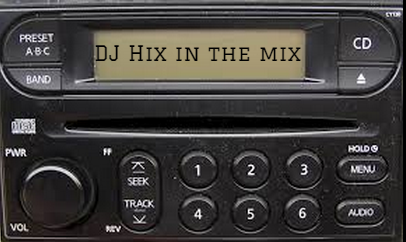 26. Barra Best
The second best weatherman in the country. (Sorry Barra, but Frank does have a Weather Watching camera…)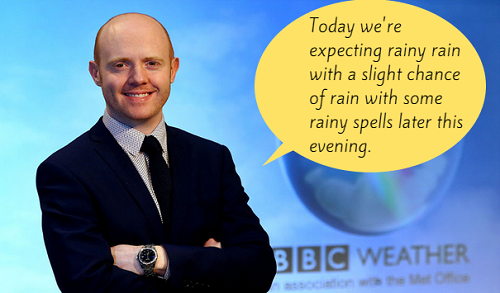 Send parcels from £5.99 with NI Parcels!

Learn more:
Northern Ireland Parcel Delivery
Small Business Shipping Solution
NI Parcels on Social Media