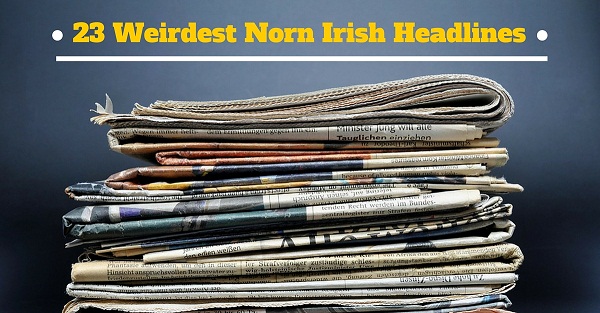 Northern Ireland has a reputation around the globe for outstanding journalism…
Our reporters have produced some groundbreaking investigative content over the years and some of the most talented names in the journalism industry first cut their teeth at our local and regional titles.
To celebrate our country's journalistic triumphs, we're taking a look at what are, without doubt, the greatest and most memorable headlines in Northern Ireland's newspaper history.
We're sure you'll agree on the 'memorable' part at least ….
1. Hopefully there was no one else in the water at the time.

2. The accused was later arrested for attempted mooder (eugh, sorry).

3. Well, if he insists…

4. Bus w**ker (literally)

5. Luckily no one was injured.

6. A bit harsh. He seems like a nice lad.

7. No word on whether the victim was askin' for it.

8. Security has increased in the area, after fear of what 'his ma' might do to retaliate.

9. Never EVER come between a man and his meat and pastry based snack.

10.  It was a crap idea to begin with.

11. This unfortunate layout decision.
 
12. And another Titanic fail…

13. Apparently the driver was half-cut at the time of the incident.
 
14. No word on whether the 'wile dose' has subsided.

15.  Just as the philosophical question goes: "If a naked transvestive dogger falls in a forest, do they make a sound?"
 
16. Wait – you're NOT supposed to sit on your parents when they refuse to buy you more drink?
 
17.  After battering innocents with carbohydrates, the perpetrator knew it was crunch time.

18. After receiving some therapy, the man is feeling much bedder. 
 
19.  You gotha be kidding me…
 
20.  Maybe it was just an axedent? 
 
21. Pretty sure they saw more than a beauty spot.
 
22. Apparently the co-pilot gave him a hand.
 
23. And of course…
 

Learn more:
Northern Ireland Parcel Delivery
Small Business Shipping Solution
NI Parcels on Social Media