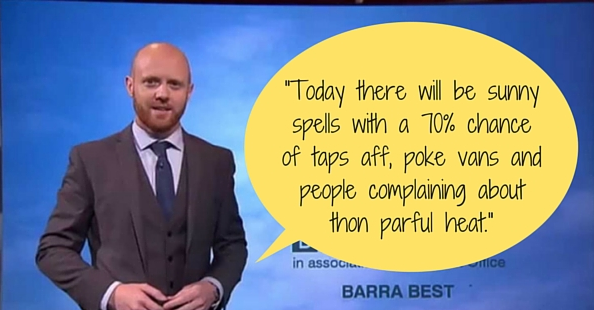 Let's be honest, it's not often that we're blessed with sunny weather in poor wee Northern Ireland…
So when it reaches over 15 degrees, you can be sure we're going to make the most of it.
15 Things Northern Irish People Do When It's Sunny
1. The taps come aff.
The Sunflower Bar, Belfast
2. Sunbathing knows no limits.

3. Seriously, we'll do it anywhere.
Even outside the Mater Hospital, apparently…
via @an_fear_ciuin Twitter
4. We start the day with a good tanning sesh in the garden.

5. The entire population then flocks to the shores of Newcastle or Portrush.

6. The entire city of Belfast ends up in the Botanic Gardens.

7. When it reaches a socially acceptable time to drink (after 1pm), we go to the nearest pub with a good beer garden.

8. It's too hot to eat food, so we feed on pokes.

9. And complain about how expensive they are nowadays.

10. Or we buy a bunch of Dale Farm ice lollies for everyone.

11. And complain about how expensive they are nowadays.

12. The entire day is spent talking about the weather.

13. The only story on the news is about our 'heatwave'.
And the front page of the Belfast Telegraph will undoubtedly list all the European countries we're currently hotter than.

14. You hear  this at least 1,000 times during the day.

15. Even though we're delighted, we'll still complain about it.

16. People will blast horrendous dance music from their cars.

17. For tea it's either a barbecue…

18. Or a 'Northern Irish Salad" (ie. few leaves, coleslaw, ham, boiled eggs and chips)

19. You put about ten washes on because, let's face it, thon's quare dryin' weather.

20. Everyone and their ma will be posting pictures of their 'fun in the sun' all over social media.

21. Meanwhile everyone in work is counting down the seconds until the working day ends and reading posts like this to make time move faster… we feel ya.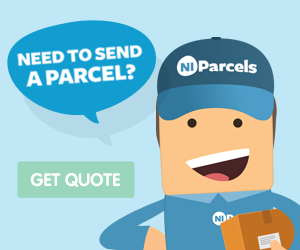 Learn more:
Parcel Delivery Northern Ireland
Cheap Shipping To Northern Ireland