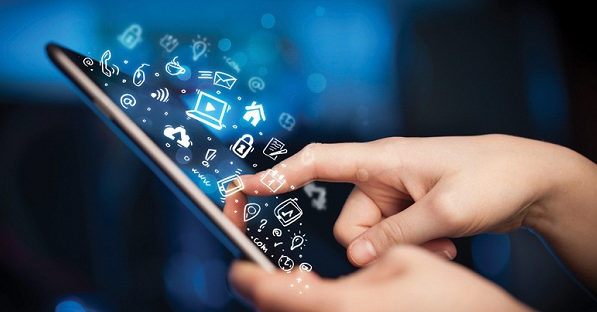 If you own or work for a small business, that business probably has its own Facebook page. Am I right?
And let me guess – looking after that Facebook page is a gigantic pain in the arse?
If so, you're not alone. So many Northern Irish businesses are stuck in a bit of a rut with Facebook. It started out great. It was new and exciting and you were reaching tons of people without having to pay a single penny. But then it just kind of stopped working. Facebook started adding new features, changing things and making it almost impossible for businesses to succeed without advertising.
As a busy person with a job, a family and a social life, we know you don't have the time to keep up with every single new update, term and condition that Facebook issues. But fortunately for you, we're giant nerds with nothing better to do, so to help you out a wee bit, we've rounded up some quick and easy tips that you can start using now to avoid wasting time and start making some moneeyyy from this old thing.
1. Use it or lose it
Facebook recognises when pages are more active and post regularly and it will reward you by increasing the amount of people you reach. A great feature is the ability to schedule posts which allows you to plan ahead and maintain regularity.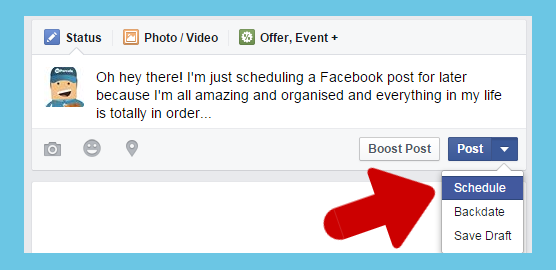 2. Don't repulse people with a crap profile
Update your profile and cover photos every so often to keep people interested. Make sure you use attractive images that are the correct size. (Here are some size guidelines)
 3. Get experimental…
Facebook also likes it when you shake it up and post different types of media. Add pictures to your status updates for more engagement and when you post a website link ALWAYS make sure that the preview image appears. When posting videos, upload them directly to Facebook rather than just copying and pasting a YouTube link, as Facebook prefers it when you use its own features and will again reward you with greater reach.
4. Gain some Insight
Facebook's Insights tool lets you know which posts are your most and least popular- and by the way, if something isn't working just stop doing it and find another, more creative way of getting your message across. It's all about trial and error. Insights also lets you know when your audience is most active online, so you know the best time to post or schedule posts. You can also see where your audience is from, what age they are, their gender and interests etc.
5. Be a fake American
Facebook is in the midst of introducing a new tool called 'Graph Search' which is basically a better search function that, amongst many other things, can give you valuable information about your audience. At the minute it isn't available to UK users, but what you can do is change your language to English US (here's how) and hey presto – you'll be able to use it.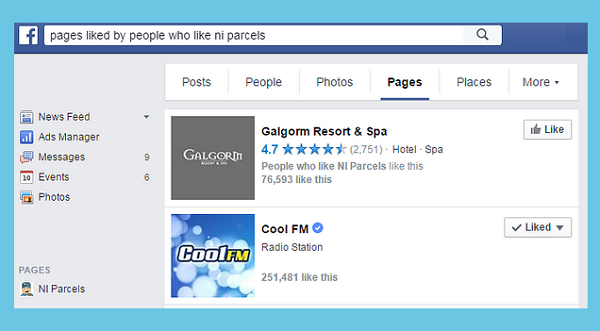 6. Be your selfie
Facebook is a social network, which means you don't have to be all serious and corporate all the time. Share themed updates, behind the scenes pictures or selfies so people can see you're real people and not robots. Establish a voice that people can relate to. Don't post huge status updates, because quite frankly, no one cares enough about your business to read it.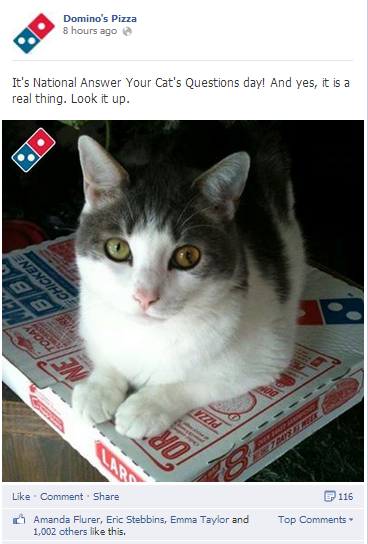 7. Sell yourself,  baby… just not all the time
But at the same time, remember that the point of a Facebook business page is to promote your business so don't get carried away with posting cat memes and quotes. Use the 70:20:10 ratio – 70% of your posts should increase brand awareness, 20% should be shared content or ideas from others and 10% should be promotional. If you use this rule and have specific objectives for every post, it makes it a lot easier to measure what's working and what's not.
8. Be friends with your fans
The main thing that any business wants on Facebook is engagement because a high level of engagement in your page will increase your reach and reach will help you gain customers. The best way to get engagement is to ask questions and respond to everyone. People love to give their opinion and are more likely to engage with brand that is personable and has a friendly voice.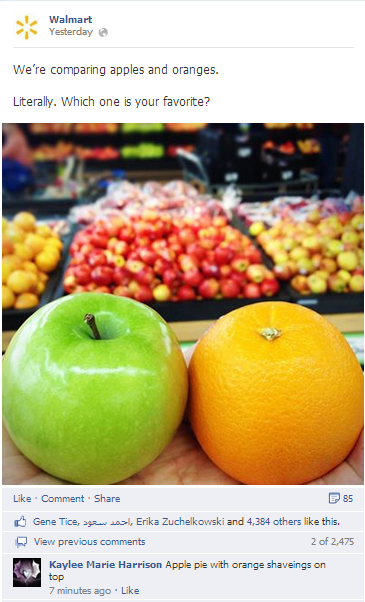 9. Hey cheapskate – put your hand in your pocket
It's no secret to most Facebook users that even if you have 10,000 fans, that doesn't mean that all 10,000 people are going to see all your posts. In fact, many businesses report that less than 1% of their fans even see their posts. For that reason, we hate to say it, but you have to spend some money and advertise your business.
10. But don't spend an absolute fortune
Start small with your Facebook ads, put a fiver behind your campaign and see how it works. If people start responding then fantastic, if not – adjust your budget and add to it little by little.
11. Embrace the POWER (Editor)
If you dabble in Facebook ads, then start using Power Editor. This handy tool lets you manage your ads better. It can seem incredibly overwhelming when you first get started but if you play about with it you'll soon get used to it. You can find more info about Power Editor here.
12. Be super specific about who you want to reach
When you set up an advert, you will have to select an audience. The great thing about Power Editor is that you can target people in all sorts of ways – by age, gender, their education status, their job, their interests – the list is endless. The most specific you are, the better the results will be. If Power Editor tells you that your audience size is over 1,000,000 then you're not being specific enough – try to aim for 800,000 or under.
13. Tell the world how amazing you are!
If you've received a nice review or a lovely email from a customer, share it on your Facebook page – don't be afraid to boast a little. It will add more credibility to your business and people respond well to positivity.

We don't just write blogs – NI Parcels also sends a lot of parcels. Send a parcel from £5.99!

Learn more:
Northern Ireland Parcel Delivery
Small Business Shipping Solution
NI Parcels on Social Media